Reading Time:
3
minutes
By José Spinetto , Solutions Specialist at Coderio.
Often we are led to believe our destiny is written in stone, making us unable to change it. So we get our first job and start our professional life, thinking that job will set the course of our career for the rest of our lives.
However, the world is changing at a speed we have never imagined. The pandemic forced us to rethink many things as well. Today, adapting to change is essential.
Thinking about changing that course might seem crazy. It would be like a caterpillar wanting to fly. This metaphor is what I consider digital transformation is about. We must consider the unexpected. We need to search for solutions that might not yet exist. We must be like the caterpillar that wants to learn to fly.
Three years in the past, I would have never imagined being where I am today, working as a Solutions Specialist at Coderio, an international software and staffing service company. 
You might be wondering how I got here. Well, this is my story.
A metaphor for the changing world
I came across this story, so I think it can help many. In 1996, the Honduran government contracted a Japanese company to build a bridge over the Choluteca River. It needed to be strong enough to resist hurricanes and heavy rain, which are common in that area of Central America
Two years later, the inhabitants witnessed the inauguration of the long-awaited work. The bridge was a modern and robust structure, which made everyone in the region proud.
Within a few months, the bridge had its first big test. Hurricane Mitch swept the entire area. For four days, the Choluteca River flooded the region, causing thousands of deaths and the collapse of all the bridges in Honduras.
Only one survived, however: the new Choluteca bridge. It withstood the onslaught of hurricane-force winds and rain. That sounds like a great ending, right? However, fate had other plans.
The road on both ends of the bridge had disappeared because of the flooding, and the Choluteca River had changed its course. That meant the river was not flowing under the structure but beside it. "A Bridge to Nowhere" headlined several newspaper articles. And they were right.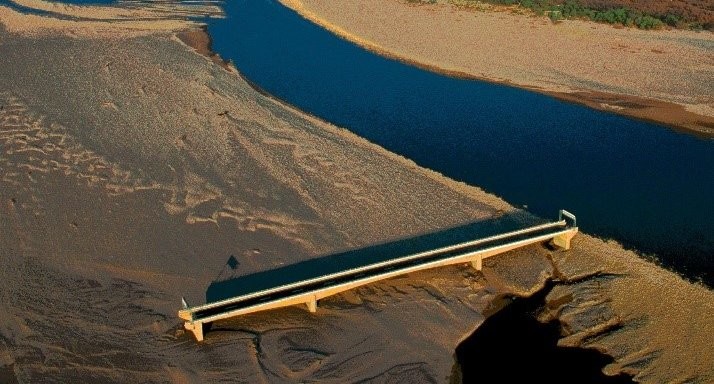 Adapt to survive
The Choluteca Bridge is a fantastic metaphor for the changing world. It represents what may happen in our careers, businesses, or lives. Even more so today because our environment is constantly changing.
Mark Zuckerberg once said: "The greatest risk is not taking any risk. In a world that changes really fast, the only strategy in which failure is guaranteed is not taking risks". I fully agree. One of the keys to the success of any company or startup is its ability to adapt to change.
For years, we have focused on developing solutions to address different problems without thinking they could eventually change. We focus on the bridge, ignoring the possibility of the river changing its course.
The turns of life
Perhaps a university study will reinforce that idea of "meant to be" and will make us follow a safe and happy path. Why not think of it as a trigger, as a starting point that opens up new possibilities?
I went through that. I, too, found myself in a place that was safe, stable, and destined to stay there forever. But the pandemic forced me -luckily- to rethink my vocation and professional career.
Until 2020 I worked in the gastronomic field. I was leading a kitchen team at a 5-star hotel when the quarantine hit. Many of us felt adrift without knowing where to row.
The context forced me to evaluate if that path was really the one for me or, on the contrary, if it was time to plunge into something that fills me up, that completes me, like a call that was always present but asleep. My passion for business won the fight, so I began to train in that direction.
There, I met interesting people. I believe making the right contacts is essential to swimming for new horizons. Among them, I met Joaquín Quintas, who saw my desire to learn. He told me about Coderio, his Software Company, and I immediately joined his team. There my progress accelerated exponentially.
Joaquín and his vision as CEO was based precisely on what I was experiencing internally: transforming and adapting to new challenges was the key to success.
In Coderio, I found a place where I feel supported and have a stable job. It also challenges me to acquire experience and new knowledge. I can handle myself freely, learn and meet people with the same passion: to evolve.
Three years ago, I took a leap of faith. Today, I work as a Solutions Specialist, and once again, I can confirm that there is no need to be afraid of changes. We must accept the ever-changing reality; it is happening around us and is inevitable.
Those who adapt can survive. So I believe we are all survivors.
By José Spinetto, Solutions Specialist at Coderio.